Meet the Newly Elected Committee Members
Vice-president: Flavio Garza
During his 30-years tenure with the Natural Resources Conservation Service (NRCS) Garza has spent a lot of hands-on time in the field working with farmers, ranchers and other land users. As a District Conservationist (DC) in Texas, Garza oversees the Laredo field office by providing conservation planning and technical assistance, suggesting best practices to conserve our natural resources.
In addition to his role as DC, Garza is also a Resource Team Leader (RTL) responsible for overseeing the administration of NRCS programs for 6 counties in South Texas including Webb, Dimmit, Zavala, LaSalle, McMullen, and Duval Counties. He serves on the Laredo College (LC) STEM Scholars Program Advisory Board and was recently honored by LC for his work and contribution to the program.
Garza has served as the past South-Central Region Representative of the National Organization of Professional Hispanic NRCS Employees (NOPHNRCSE). He was awarded the national "Visionary Award" presented to him at NOPHNRCSE's awards ceremony in Spokane, Washington. The award recognized not only Garza's participation and support of NOPHNRCSE, but also his accomplishments and contributions to the Hispanic community. He has served as NRCS Hispanic Emphasis Program Manager for Texas. He serves on the Ag Advisory committee for the Webb County Appraisal District, and the Leadership Advisory Board for the Webb County Agrilife and the Zapata County Agrilife advisory board. Garza started his career as a student trainee with NRCS while earning his Bachelor of Science degree from Texas A & I University.
Treasurer: Urayoan, Diaz Pacheco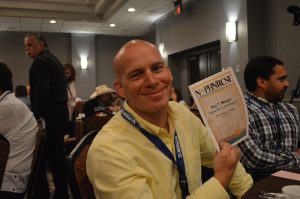 Urayoan was born in Ponce and raised in Bo Marueño, where he spent a childhood making good memories and going on adventures. Ever since an early age, his inclination toward agriculture and nature was obvious. He preferred spending time riding horses and harvesting coffee with his family rather than playing video games. It was during this time that he had the opportunity to experience the infamous "picada del Abayarde". Throughout his childhood, Urayoan was very active and outgoing; he participated in the Boys Scout of America, and studied drawing at the Escuela Especializada de Bellas Artes de Ponce. He even acted in a play during his time there.
After graduating from high school, he attended the University of Puerto Rico, Mayaguez Campus better known by "El Colegio". He completed his bachelor in Agronomy and Soils. After graduating, he worked in the private sector for 7 years as a Program Manager in the agricultural industry. A new chapter of life brought him to growing pumpkins and cassava on a farm in Juana Diaz, PR. Working on the farm reminded him of the good times of his youth and made him want to be a better land steward improve his soils and natural resources he depended on. He also saw how important personal relationships in the farming community are and liked helping other neighbors when he could.
Since 2015 Urayoan has been with the NRCS as a Soil Conservationist in Carroll, IA. After few winter seasons he decide look for a warmer place and end up at Deming, NM. Where he still with his conservation commitment. He is thankful for having the opportunity of getting introduced to NRCS through a summer internship and the career possibilities of the future. He is very passionate about working with producers to help conserve our natural resources while helping them achieve their goals.
When ask to share with us some facts about him… Ura describes himself as a simple person who likes to laugh and make his dreams come true by working hard to reach his goals. He enjoys being active and doing outdoor activities such as cycling, CrossFit, hiking, kayaking and camping. He also brews his own beer and loves to be creative in the kitchen.
South Central Representative: Stella Santos
My name is Stella Santos, I'm a Soil Conservation Technician in Uvalde, Texas. I started my career with NRCS in 1990 as Area Clerk in Uvalde, Texas in our Area Office when the Area offices changed to Zones I was given the opportunity to train in place as a Soil Conservation Technician. I was happy to be given this opportunity and now have been working for NRCS for 29 years. My position has given me the opportunity to serve our farmers and ranchers in our community and promote our Conservation Programs. I was honored to attend the very first NOPHNRCSE Conference in San Antonio, Texas 26 years ago. I was given the opportunity to attended our 25th Anniversary Conference which was a great experience to come back together with old acquaintances and to meet new ones. I became a member of NOPHNRCSE in 1994 and chose to be a Lifetime Member. In the years of NOPHNRCSE existence, I have supported the organization in several capacities. I served as the National Council Secretary from 2000- 2004. I also have served on various planning committees on many of our Conferences. I have served on moderating committee, auction committee, scholarship committee, hospitality committee and now as your Re-elected South Central Regional Representative. In 2007, I was awarded the Natural Resource Conservation Award. I am married to Alfonso Santos for 25 years and we have three beautiful children Alfonso II (Cio) 33, Nicolas (Nico) 22, Anyssa 20 and two fur babies Scarlett and Lily.
South East Rep: Josean Torres
I was born and raised in Yauco, Puerto Rico. I have a bachelor's degree in Agronomy and Soils from the University of Puerto Rico at Mayaguez Campus. I have a lot of hobbies, including eating good food, traveling and enjoying good moments with my wife, family and friends. I started my career with NRCS as Student Trainee in Beaufort County, North Carolina in 2016. Currently I am working full-time in Lumberton, NC as a Soil Conservationist. I've been working with NRCS 3 years and it's a wonderful experience to work with farmers and help them to take care of the land.