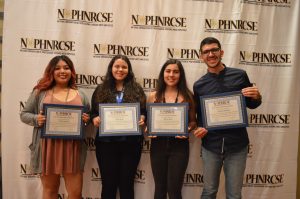 At least three scholarships of $1,000 each will be awarded to graduating high school students accepted to an accredited college or university or registered students in their first through third years in an accredited college or university. Additionally, there will be one specific $1,000 scholarships (Martha Guerra-Arteaga) that will be awarded to one female student majoring in public affairs, communications or a natural resources conservation-related field of study.
The applicant must apply annually. The due date for consideration is normally during the spring each year. The announcement will be posted on this website, so please check with us each year. For more information, contact the Chair of the Scholarship Committee, Angel Domenech, at angel.domenech@ky.usda.gov. This e-mail address is being protected from spambots and you will need JavaScript enabled to view it.
---
2018 Scholarship Announcement   
The National Organization of Professional Hispanic NRCS Employees (NOPHNRCSE) has the mission to motivate and mentor members for leadership roles to assist NRCS and partners in delivering natural resources conservation. Following our mission, NOPHNRCSE is proud to present the 2018 scholarship program.  
This year NOPHNRCSE will award three $1,000.00 academic scholarships to qualified students that are pursuing a degree in Agriculture, Natural Resources, or Natural Resources Conservation related field of study at an accredited school of higher education. 
The following is the scholarship application form and guidelines for completing and submitting the application. Due date for consideration is March 31, 2018:
For more information please contact:
Renae Nicholson at Scholarships@nophnrcse.org